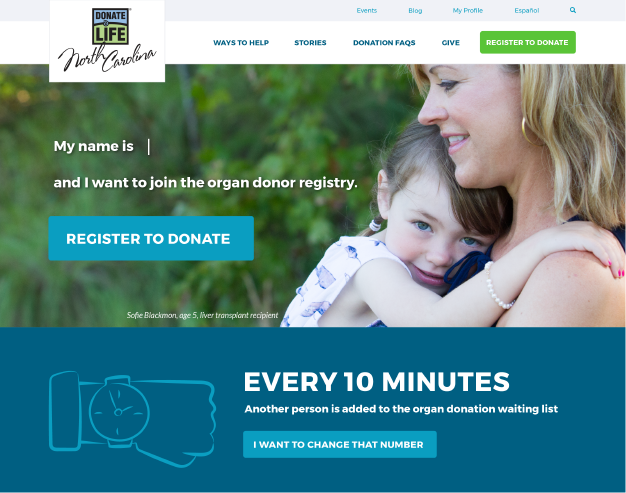 Donate Life
Donate Life America is a not-for-profit alliance of national organizations and state teams committed to increasing the number of donated organs, eyes, and tissue available for transplant to save and heal lives. In this project, I lead the user experience strategy, visual design efforts, and user interface work. I worked with the Donate Life North Carolina team and the team at Alloy Magnetic to redesign the look and feel of the site, increase online registration, and to tell the stories of those whose lives were impacted by organ donation. This project had about a five-month timeline from start to finish.
The primary audiences of Donate Life NC were people, businesses, and organizations in North Carolina. Our goal was to build a site that engaged users from the moment they enter the site through compelling and persuasive stories of those affected by organ donation. By engaging users, we were looking to motivate them to act by donating time, funds, or to save lives by joining the organ donor registry. Additionally, we sought to make the registration process as simple to complete as possible so that it would have a higher rate of enrollment.
Wireframes & Strategy
In the strategy phase of this project, I created a set of wireframes that focused on telling the story of donation. I included a collection of data on the value of contribution in harmony with stories of those affected. This strategy involved data visuals along with compelling information such as "registering to donate could save eight lives," and "it only takes two minutes to register." Statistics such as these emphasize the value of registering while explaining how little it takes to make such a significant difference.
We proposed to our stakeholders that we create a method that would start users on the registration process on the moment they hit the homepage. All it took was a simple yet effective name entry. That name entry, when completed, would put users directly into the registration process while also making the information they entered and translating it into the form fields.
A major pain point was the registration process itself — we found that only 13% of people who began online registration process completed it. Initially, the registration page was one long page with many fields. In the redesign, we set out to break out each step of the process to let users know their progress, and to remove any possible unnecessary form fields.
Visual Design & Interface
In alignment with the new strategy, we created a bright, friendly, and graphic interface and design. It was essential to have the site styles be inline with the parent Donate Life brand while adjusting for our specific needs. While our palette was approachable, we did find that the contrast was not ideal and sought to make text scale larger to compensate for contrast issues. I created custom icons to enhance the data visuals and to break up the compelling custom photography. Cool greys maintained the overall tone of the site while ensuring that bright colors were used where valuable.
Results
Since implementation, there has been a 52% increase in the number of individuals completing registry entries, proving that good design truly can save lives. Additionally, the team at Donate Life NC now would be able to create and edit content using the Alloy Beryllium product. I learned a lot during this project, specifically about the impact of storytelling and how improving something as simple as a form experience can make all of the difference. It is a project I am still proud of, in part because I led much of it, but also because of the value, it brings.