RedHat Developer
Red Hat Developer is a division of Red Hat, a leading provider of enterprise open source solutions that has been in business for over 25 years. The Red Hat Developer redesign project was one I worked on with my team at Alloy Magnetic. My primary focus in this assignment was to collaborate with my team, a branding agency, and the internal design team at Red Hat Developer to re-imagine the strategy and the design of the Red Hat Developer site.
For this project, I conducted competitive analysis, collaborated on the strategy and wireframes, and adapted the renewed Red Hat brand into a scalable design system. We had approximately eight months from start to finish on this project.
Goals & Users
Red Hat Developer offers a community and learning hub for people in tech: developers, software engineers, web designers, front-end designers, UX designers, computer scientists, architects, testers, product managers, project managers, and team leads. At the time of the redesign, Red Hat was looking to revamp the way they communicated with these audiences to create a higher level of engagement on the Red Hat Developer platform. Additionally, Red Hat wanted to offer better support to their influencers, those offering thought leadership and resources. The Red Hat Developer site fits into a larger whole of Red Hat, providing the thought leadership necessary to be an industry leader in tech and to bring potential customers into the sales funnel. As someone who falls into Red Hat's primary audience, I had to ensure that I detached myself from my own biases as much as possible as I went through the process of research.
Competitive Analysis
For competitive analysis, I reviewed seven key competitors and industry leaders in tech. These seven were established in part by the stakeholders at Red Hat, by my team, and by myself. We determined that we would review: IBM, Microsoft, Pivotal, Apple, Salesforce, Google, and Amazon. It is important to note that this competitive analysis focused on a variety of performance indicators, including everything from product cost and site traffic to tone and user experience. After reviewing my findings with my team at Alloy, I shared out these findings with our stakeholders at Red Hat. The competitive analysis also included screenshots of specific components/pages/content that we saw as relevant to the information in the slides. During this process, we identified opportunities for Red Hat to stand out from the competition, and ways in which we could improve the strategy.
Strategy & Wireframes
I collaborated with the lead designer, the Red Hat UX team, and the Red Hat stakeholders on the new approach. When establishing goals, we referenced our competitive analysis and analytics data, along with customer insights. Red Hat had the opportunity to relate more with their audience, to build their story, and to offer their resources in a more streamlined manner. However, Red Hat had a long-standing legacy and dedicated audience already, we were able to ask what would appeal to the legacy users while appealing to an incoming audience. This strategy translated into a set of wireframes that re-emphasized Red Hat's community values in a new and concise manner.
It was also my responsibility to translate the user experience goals into a compelling and functional interface. It is important to remember that user experience and interface design are different but need each other. In the wireframes, the Red Hat Developer experience was shifted to truly focus on the audience by offering clear content architecture, rich content offerings, renewed forums and platforms for communication, and enhanced promotional offerings for partners.
Visual Design
In addition to collaborating with others on a new vision for the Red Hat strategy, I worked with the branding agency to translate their new logo, palette, and typefaces into the interface and interaction design of the site. In any instance of a redesign, the new tone and strategy must align with the visual design. The rebranding effort focused on the intersection of new and old tech culture. We sought to diverge enough from the parent brand of Red Hat to be distinct without losing the essential red and gray palette entirely. Small bursts of color were used to emphasize call-to-actions and thought leadership, along with subtle animations and interactions designed to be accessible yet playful. We sought to build a design that reminded users of values of building, from the moment we all began building lego sets until the moment we learned to code. The playful and bright colors paired with a code-related typeface and well-balanced white space brought Red Hat into a new era.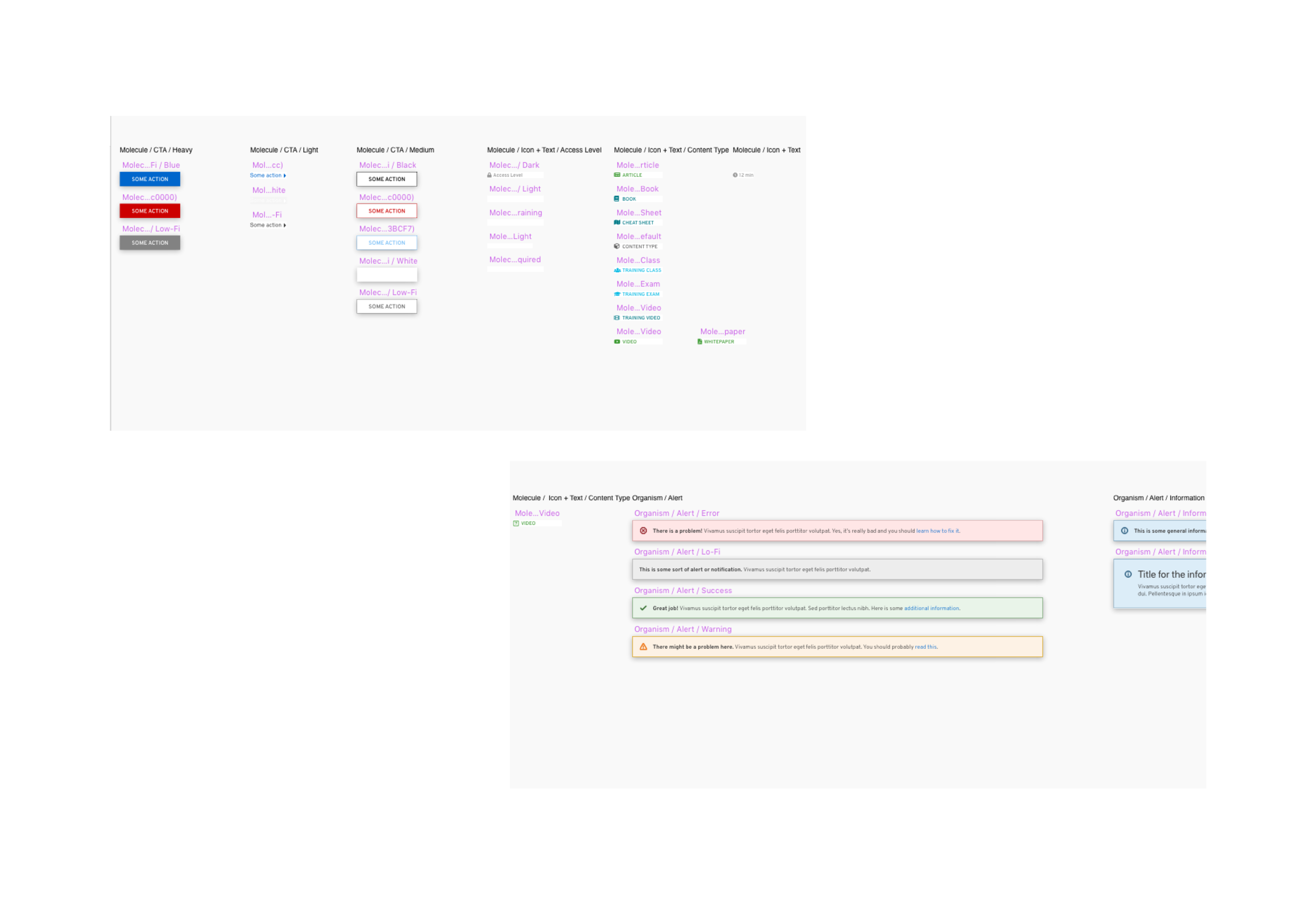 Interface & Design System
This project used the Beryllium content management system product I had worked on previously. In this system, we established a way for all parts to be re-usable, from buttons to components to page templates. This methodology was applied to the Red Hat Developer site starting in the design process. During this process, some of the UX team at Red Hat and I established everything from header styles, to buttons, to entire re-usable components. We then shared our work with key stakeholders and communicated our designs to developer guidelines and assets.
Design systems such as this are incredibly effective at reducing costs, increasing consistency, and improving accessibility across products and websites. It is also important to note that the design system was translated responsively, as a genuinely useful design system establishes a set of breakpoints and element variations in those breakpoints to meet the needs of users on different devices.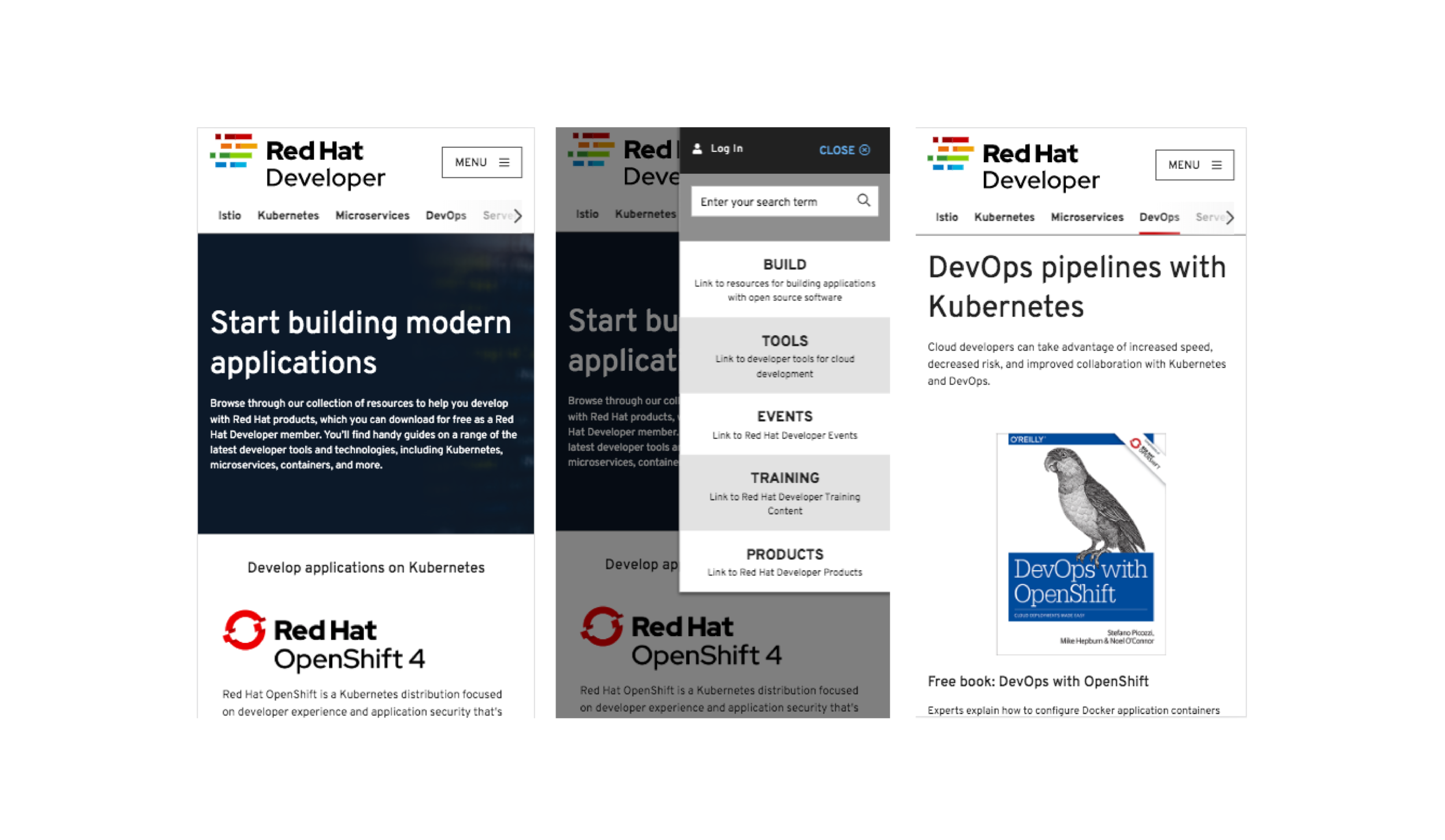 Results
All of the efforts of myself and the teams I collaborated with were shown to be effective, not just in pleasing stakeholders, but in increasing engagement across the website, in social media, and with partners. Bounce time has decreased, organic traffic has increased, and Red Hat Developer has a renewed community. I was able to work with a largest-scale team and design system in my experience. Presenting to high-level stakeholders and selling them on our strategy as it translated into the interface was an exciting opportunity that proved to teach me a lot about the value of an aligned team. I am proud to have worked on a project for my community.